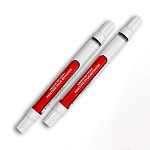 Has your car been dinged in a parking lot in Warrenton, VA, or do you just want to give it a fresh coat of paint? Applying touch-up paint is a great way to cover up small scratches and blemishes. In this step-by-step guide, we will show you how to apply touch-up paint like a pro!
To start, you will need to gather the following supplies: touch-up paint, a clean cloth, and painters tape. Once you have all of your supplies, you will want to clean the area around the scratch or blemish with a clean cloth. This will help the paint adhere better. Next, use the painters tape to tape off the area around the scratch. This will help you keep a clean line.
Now you are ready to start painting! Dip your brush into the touch-up paint and apply it to the scratch or blemish. You may need to apply several coats in order to get full coverage. Once you are finished, remove the painters tape and enjoy your newly painted car!