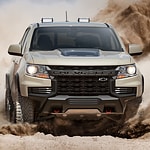 The Chevy Colorado is a mid-size pickup that comes with many benefits. It's agile and easy to maneuver, and it's quite responsive, too. It's earned a strong reputation at Country Chevrolet Inc., and the 2022 model year will no doubt continue to impress local customers.
The standard engine has a displacement of 2.5 liters. With this four-cylinder engine, you'd be able to tow up to 3,500 pounds. Take advantage of the 200 horsepower and 191 pound-feet of torque as you drive around Warrenton.
There are two other engines for you to consider. One is a 3.6-liter V6 that can tow up to 7,000 pounds. If you're looking for something that has an even higher towing capacity, check out the Duramax 2.0-liter turbo-diesel, which can haul up to 7,700 pounds. It delivers an incredible 369 pound-feet of torque. With any of these engine options, you can get four-wheel drive, and some models have advanced suspension systems.